Pack Walks
After the completion of any program, we provide pack walks where you as the owner can keep up with all the skills learned in our programs. You and your dog can join us and many others at different parks around the Tampa Bay Area to enhance your dog's skills and your handler skills. Each one of our team members will also be there to answer any questions you may have. This is great way to enjoy a nice, controlled walk and socialize your dog! These walks run biweekly on Saturday at 11:30 a.m.
Please connect with us through our Facebook page to learn about the next Pack Walk event!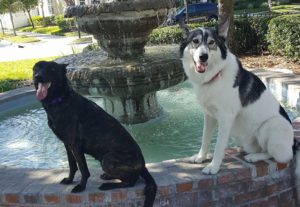 dog training classes
The ability to consistently deal with distractions is an important lesson for your dog to learn. Pack walks are a great way for your best friend to learn to deal with distractions as they can run very high in a public setting such as a park. Our dog trainers are there to ensure their learning while at the same time helping you to control your dog. We play fun games with you both on whatever topic we are teaching that day. Our classes are great way to socialize your dog in a controlled environment. They can also be beneficial to dog owners who are not comfortable with dog parks and want to exercise their dog. Last but not least – it is a great way to make new friends – for both you and your dog.
Group classes coming soon for puppies and advance obedience stay tuned! Also coming soon a facility!
We offer a variety of flexible training options with you and your dog in mind.
Contact us today to set up a Meet N' Greet for a free dog training consultation & set-up a personalized training plan.