Our Difference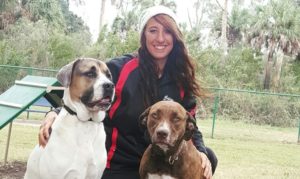 professional dog trainers
Welcome to our website. My name is Erica and I am the owner of Revolution Dog Training. 
My goal is to revolutionize the dog training world – here is how we plan to do it.
WHY I DO WHAT I DO

S
I became a professional dog trainer because of the special connection I have had with dogs since I was a child. In my teenage years I had a Siberian Husky that had behavioral issues, and witnessed first hand the challenges it placed on our family. Even more frustrating was I didn't know where to start – but I knew I wanted to learn more. So I went to school to become a professional dog trainer to learn how to and be able to address behavioral issues.
You could say that is how I found my lifelong passion. I knew how challenged I was with my dog and I wanted to be able to help families live a comfortable stress-free life with their dogs with this new knowledge. 
I love what I do and wake up excited to go to work. I can't believe how quickly the days fly by – it never feels like work to me.
I love seeing the difference I make in every single dog, and love seeing the owner's faces as they see the results.
WHERE MOST DOG TRAINING PROGRAMS FALL SHORT
Most dog training programs are a one-sized fits all model and designed to only train your dog commands.  Unfortunately in many cases these are only fast fixes. The commands the dogs learn in these programs are typically not learned in real life situations. Nor are they tailored to the needs of your family.
Our goal is to be different and I started our company with these problems in mind.
EXPERIENCE OUR DIFFERENCE
At Revolution Dog Training, we want you and your dog to live an enjoyable life together with no limitations, and to enable owners with the confidence they can do anything with their best friend.
Here are our commitments to you:
Diverse Methods
Like people, dogs learn in different ways.  That's why we train using a variety of methods.  While treats, clickers, and remote collars tend to be the most well-known methods, we won't make a recommendation until we have a chance to evaluate your dog and determine what will work best for the both of you.
Personalized Plans
The commands we teach your dog are set-up for real-life situations and tailored to the needs of your family. No fast fixes with us. Our goal is also to help you become a more confident handler.  We work to educate you so that your dog will have continued success upon completion of one of our programs.  We also set up a post-training action plan to ensure that you both stay on track. Our unique dog training methods and getting to know each dog individually instead of jumping right into a curriculum. We set a unique plan for each dog and owner.
Quality Training
We provide your dog with more individual attention in a home setting. We let the dogs live and act as if they were at home and we address their behavioral needs first hand. Dogs get to sleep in comfy beds instead of crates.  Our professional dog trainers also take our own training seriously. That's why our team is constantly working to improve.  By attending training seminars and furthering our education through coursework, we strive to stay current on all that the dog training world has to offer. We treat your dog like a member of our family. Your best friend deserves nothing less.
Exceptional Service
Choosing us means you get to meet your trainer instead of being assigned one. We also want you and your dog to be completely satisfied with your service. That's why we offer free tune-up lessons with our professional dog trainers after the completion of any of our programs. We also offer a discounted rate on our boarding services if more intensive training is required. We will not stop until you are delighted.
Contact us today to set up a Meet N' Greet for a free dog training consultation & set-up a personalized training plan.
professional dog trainers