Group Classes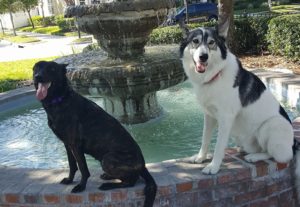 dog training classes
The ability to consistently deal with distractions is an important lesson for your dog to learn. Group dog training classes are a great way for your best friend to learn to deal with distractions as they can run very high in a public setting such as a park. Our dog trainers are there to ensure their learning while at the same time helping you to control your dog. We play fun games with you both on whatever topic we are teaching that day. Our classes are great way to socialize your dog in a controlled environment. They can also be beneficial to dog owners who are not comfortable with dog parks and want to exercise their dog. Last but not least – it is a great way to make new friends – for both you and your dog.
Our group dog training classes are offered once a week to reinforce everything your dog has learned. They are also designed to help you to be more confident in handling your dog while you both learn together. What sets these classes apart from our other training options is that they are specialized. Each class is focused on a dedicated topic and can range anywhere from strengthening commands to dealing with distractions to even learning tricks.
Our goal is always also to help you become a more confident handler. We work to educate you so that your dog will have continued success upon completion of one of our programs. We will set up a post-training action plan with you to ensure that you both stay on track. We want you and your dog to be completely satisfied with your service. That's why we offer free tune-up lessons with our professional dog trainers after the completion of any of our programs. We also offer a discounted rate on our board & train services if more intensive training is required. We will not stop until you are satisfied.
We offer a variety of flexible training options with you and your dog in mind.
Contact us today to set up a Meet N' Greet for a free dog training consultation & set-up a personalized training plan.